Find here all the ready made products that can be purchased immediately. Use Paypal or contact us if you prefer to pay with bank transfer.
---
bath accessories
---
SET-A: 1 ladle w/handle + 1 large bucket
---
SET-B: 1 large bucket + 1 stool
---
SET-C: 1 ladle w/handle + 1 large bucket + 1 stool
---

Asnaro minimalist stool
(330x220x300H)
(w=13" d=8 5/8" h=11 13/16")

---


Hinoki traditional stool
(300x180x200H)
(w=11 3/4" d=7" h=7 7/8")

---


Ladle with handle
(170x290H)
.

---


Large bucket
(225x120H)

---

"Sunoko" floor grate panel
(900x700x55H)
---
Aomori Hiba wood aroma oil
| | |
| --- | --- |
| | 1 x 100ml Asnaro-Hiba Oil bottle: |
---
| | |
| --- | --- |
| | 2 x 100ml Asnaro-Hiba Oil bottles: |
rain-chains

Length is 2700mm, diameter is about 60mm. it can be easily attached to an existing gutter.
---
Japanese copper rainchain: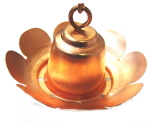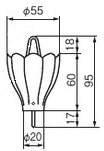 Lotus design
hinoki wood cutting boards
Cutting board - large
sizes: 300x450x t30 mm (12"x18"x1 1/2")
---

Cutting board - small
420x210x t30 mm (8 1/4" x 16 1/2" x 1 1/2")
---

Cutting board - round
diam. 350x t30 mm (diam. 13 25/32" x 1 1/2")
.
---
---
"kadomaru" nostalgic hottub
We decided to replicate a wooden tub that was the standard in every japanese household before the WWII. It is compact and reasonably priced. High quality japanese handicraft, solid and durable. We use 100% japanese sawara wood. The straps are in stainless steel. Options such as overflow cut are available (about 6,000 JPY extra) (see an example here:
http://www.bartokdesign.com/japan/7-custom_ofuro/happy-end_in_switzerland.php
) Here below are the details: H740mm (external dimensions) 630mm(deep) natural japanese Knotless Sawara "Oke" bathtub with covers: (see also enclosed sketch) 1a) L930mm x W630mm : 235,000. JPY -or- 1b) L850mm x W630mm : 212,000. JPY 2) Packaging (reinforced cardboard box): 17,000. JPY 3) Paypal commission: 7,000. JPY 4) Pick up and delivery to Tokyo port or Narita air port: 5,000 JPY 5) Shipping: please let us know your exact address for the estimate. If you are making arrangements yourself for the shipping, you can purchase it in one-click! - Otherwise contact us by email for other payment/shipping options. (Note that if you use ocean freight, a plywood crate will become necessary ->
2') Packaging (plywood box): 28,000. JPY) The tub will be ready in our warehouse 6 working days after order date. here is the dimensioned drawing:
hb930kadomaru-st.pdf

ofuro price list
Our policy is to produce custom ofuros freshly after your order. This way we do not have to use a lot of space to store the stock and do not have to immobilize capital for ready-to-ship products. The customer`s advantage...
hinokitiol powder
We sell hinokitiol powder in 1g bottles:
foot bath
Here are two models of foot bath in japanese wood: ROUND TYPE Sawara wood foot bath (430x270H) (d=16 7/8" h=10 5/8") shipping options sawara foot bath + air mail to N.AMERICA/OCEANIA ¥63,800 JPY sawara foot bath + air mail to...
hinoki essential oil
[pocket onsen] with "Special reserve hinoki aroma oil"
[pocket onsen] with "young trees" hinoki aroma oil
hinoki reserve (250 y.o.) oil
- HINOKI ESSENTIAL OIL - RESERVE (250 years old)