introduction
A BATHROOM WITH A VIEW: there is only one way to wash away the stress and toxins of our technological world: going back to simplicity. Our recipe for full relaxation and well being is ONE BATH A DAY: as long as you do it surrounded by natural materials, in an aromatic mist of fresh fragrances and healing oils. Simple is Heaven for body and mind.

hinoki bath tub and accessories ready for shipping ->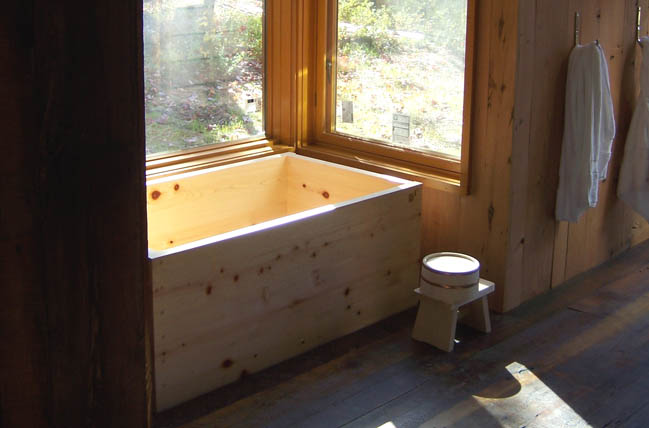 You might enjoy a big car or spacious home: you will be surprised how pleasing can be to spend hours in a 3 square meter room. Even in a very compact 160x160cm bath-unit, where you can be completely surrounded by nature and soothing natural scents is enough to make the most of your relaxing time. You might read a book while soaking in the warm water or just enjoy a serene landscape out of the window, you will come out rejuvaneted, relaxed, healed. No doubt about it. You find it difficult to imagine? Please take a look at our
introductory page
.
This miracle is called hinoki bath. We are in contact with several craftsman in Japan who are producing hinoki bath-tubs for generations.
They are built with care, professionality and passion. And they are more affordable than the products offered by larger factories, loaded by sales commissions and promotional costs.
The main differences in using a craftman are: your bath-tub will be handmade, custom as per your specification, using the best quality material. And it will be cheaper than industrial
ones. Bartok design offers you this option that is not normally on the market and definately not available to overseas customers.
But you will need to make some choices. Scrolling down the page, you will be able to consider:

1) the type of wood
2) the pattern (cut)
3) the size and shape of the tub
4) the accessories

The reasulting bathtub is the one that matches your needs and taste.
Please submit us the quotation form so we can prepare a personalized cost estimate without any obligation from your side. Let`s start:

type of wood



HINOKI (Chamaecyparis obtusa)
durability and sublime fragrance

Hinoki means literally "tree of fire" as it was used antically to spark a fire, thanks to its dry nature. As hinoki has an excellent dimensional stability and durability, it has been since ever the first choice when it comes to the bearing structure of a house. Still today hinoki is widely used in construction, expecially for the parts which are connected with the "life and soul" of the building: columns and foundations. The grain is very compact and prevents the penetration of insects. Please find more details in the introductory pages.

ASNARO/HIBA (Thujopsis dolabrata)
superior resistance to water and insects

Of the family of Hinoki, the Asnaro, popularly known as "Hiba" is the symbol tree of the northern Aomori region. Its most prized qualities are its antibacterial and insect repellent characteristic: expecially when it comes to thermites, the hiba wood has no rivals. There is a proverb: "In a house built with Hiba, flies do not enter for 3 years".Strong at least as much asHinoki, Hiba is very resistant to rot and humidity: for this reason it is the preferred material for balconies, eaves, bathrooms and so on.
Which one to choose?
Consider that straight hinoki is the most beautiful because of white-pink color and elegant grain. On the other hand its candity will show earlier the signs of time and of use.

When our clients are in doubt, we recommend Asnaro wood. Its color is a warm straw-color and any stain, scrath will be less visible. Asnaro is also the most resistant against thermites. Lastly, if you like the knotless look but want to find a cheaper alternative, Asnaro wood is actually available only in the knotless variety. (Note that Asnaro is cross-grained cut and not straight-grained cut like hinoki)

cut of wood

YASURAGI

The planks have knots. This does not affect the performance of the product and is more affordable costwise. Knotty wood is also believed to contain more aromatic oils. When the bathtub is skillfully assembled considering the pattern of the knots, it reinforces the confortable "woody" atmosphere.





YUTORI

The trunk is cut diagonally to avoid knots.The planks exhibit the long, elegant, pure grain of hinoki without imperfections. This cut is the most appreciated in Japan even though the subtle grain becomes more difficult to perceive with the passing of years.
sizes & layout
SUEOKI type
The bathtub is positioned on the floor in such a way that the wooden front is exposed. This solution is preferred when also the walls are finished in wood or just to enhance the elegant simplicity of the space. See the details for more info.

UMEKOMI type
The bathtub is recessed and it is mostly visible the inside rather than the outside. This solution may be slightly and limits the cleaning and maintenance to the interior surface. See the details for more info.

CUSTOM type
Any size, from family to pool type. Any shape including round, oval, poligonal etc.
---
For your reference, common sizes(*) are:
(see also the standard tub sizes pricelist)
We can build any size as per your specification at no extra cost, please inquire. S1) 0900L x 0700W x 690H
S2) 1000L x 0700W x 690H
S3) 1100L x 0700W x 690H
S4) 1200L x 0750W x 660H
S5) 1300L x 0750W x 660H
M6) 1400L x 0750W x 666H
M7) 1500L x 0750W x 616H
L8) 1800L x 1000W x 616H
R9) 1400φ x 750H
(*) sizes (mm) are external
shoji doors
Shoji doors are light screens made of thin lists of wood on which is applied a sheet of rice paper. They are usually sliding doors and are often used in number of 4 pieces to create a "translucent wall" that can be opened as needed from the sides or from the center.

GO TO NEW HOMEPAGE
---
ofuro price list
Our policy is to produce custom ofuros freshly after your order.
This way we do not have to use a lot of space to store the stock and do not have to immobilize capital for ready-to-ship products.
The customer`s advantage is a reasonable price, maker-to-client and the possibility to adapt the tub to your needs and bathroom sizes, up to the milllimeter!
For this reason, feel free to ask us a custom quotation. We are at your disposal!
This said, If you just want to have a quick reference or compare with standard sizes of different makers, please refer to the chart below. Again, this is just for reference, always ask for a final quotation as we may be able to make better conditions according to the season of the year and the material we have in stock.
Click on the image below to download the pdf version.
rain-chains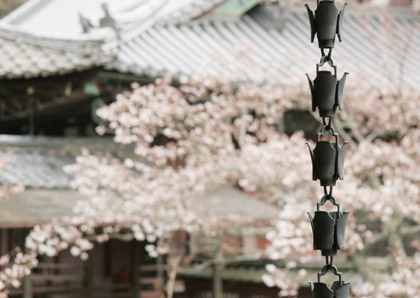 Everybody I know, when visiting Japan, remained fascinated by these items. In place of a straight gutter, a chain made of tens of small bell like copper cups conveys the rain to the floor. The rain can be discharged into a regular stormdrain, collected in a large pot or drained directly in the soil, having the care of digging a small pit and fill it with gravel.


Length is 2700mm, diameter is about 60mm. It can be easily attached to an existing gutter.
---
Japanese copper rainchain:
GO TO NEW HOMEPAGE
---
Aomori Hiba wood aroma oil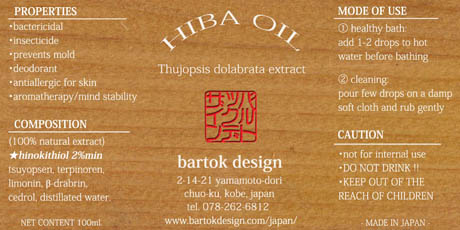 Japanese do not usually apply any oil on a wooden tub, but if you want, you can use hiba oil as a wood tub cleaner/conditioner.
Asnaro-Hiba oil has wonderful properties and will clean, rejuvanite and preserve your tub.
Asnaro contains more hinokitiol than hinoki wood.
It can also be used for:
- aroma-therapy (relaxation)
- odor elimination (recommended for your shoes closet)
- skin care (eczema, nosocomial infections such as methicillin-resistant Staphylococcus aureus.
- other uses: check our blog for the hiba oil detailed description)
Available in 100ml bottles at 4800 JPY per piece.
Some discount is available for larger lots. Please inquire.

---
1 x 100ml Asnaro-Hiba Oil bottle:
---
2 x 100ml Asnaro-Hiba Oil bottles:
GO TO NEW HOMEPAGE
bath accessories
Here below are three package options (ideal for a gift!). Contact us if you need different quantities or set combinations.
---
SET-A: 1 ladle w/handle + 1 large bucket
GO TO NEW HOMEPAGE
---
SET-B: 1 large bucket + 1 stool
---
SET-C: 1 ladle w/handle + 1 large bucket + 1 stool
GO TO NEW HOMEPAGE
---
---
There are many accessories and details which can enhance the look and enjoyment of your hinoki bath. We can also supply planks to finish in wood also the wall surfaces.
UPDATE 2009.5.10
From today on you will be able to purchase the accessories separately using PayPal. The shipment worldide is done with EMS postal parcel (express air mail) which is fast and convenient.

hinoki wood cutting boards
---
NOTE: as of march 1, 2015 the prices have increased about 11%
foot bath
Here are two models of foot bath in japanese wood:

ROUND TYPE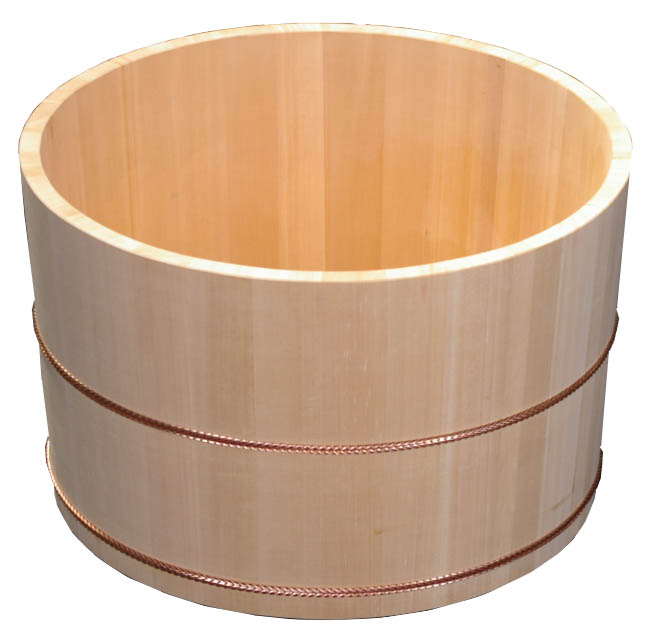 Sawara wood foot bath

(430x270H)
(d=16 7/8" h=10 5/8")
GO TO NEW HOMEPAGE
BOX TYPE


quality: hinoki knotless wood (AB grade)
size: 1200x400xH350mm (depth 217mm)
price: 250,000 JPY + transportation cost (please enquire)
Also do not hesitate to contact us for custom sizes.