Reference from Canada
Hello Iacopo,

We finally have our ofuro finished with the installation of the blinds. That hasn't stopped us from having some wonderful soaks over the past 2 months. The room is magical and we are enjoying sitting in and out of the tub, sometimes for hours. It is surprising how well the water maintains its temperature compared to a regular tub. We never have to add hot water to stay warm.


Our architects sourced a frameless window sytem that easily and quickly folds out of the view and we look forward to using this feature more as the weather warms. Our carpenter used yellow cedar for the the wall and window sill which goes nicely with the asnaro, both in tone and fragrance.Thank you for your wonderful product and great service. We look forward to many years of enjoyment.
Warmest regards,
xxx
-----------------------------------------------------------------------
Reply:
Thank you for your kind message.
I am really wordless at the sight of such a beautiful result.
No doubt this becomes our best example of japanese ofuro installed
outside of Japan and most appealing pictures.
Best regards and... enjoy your bath, it is really wonderful!

reference from switzerland
tub installed in France
reference from London
I really enjoyed our first bath last night and the smell of the wood.......is just heavenly. I think I even prefer the scent of the asnaro to that of the hinoki!
Thankyou so much for making this one so quickly and special thanks to your carpenters.
Feel free to use the photo if you wish (not my best angle ha ha)
K.
removal of resin
Dear Iacopo,
I have finally installed the hinoki tub in our house in Whistler, Canada. It looks really great. Before I start using it, I have a question about it. The wood surface of inside part of the tub produced a sticky sap. Is it normal and should I was them off before using it or leave the sap as part of the aromatherapy property of hinoki wood?
Sorry I never own one before so I am clueless.
Many thanks for your help,
G
---
Dear G
The bathroom looks great!
About the resin deposit: it is natural and of course it does not have any health implication.
You can remove it using a solvent as Acetone. You can purchase it at a paint shop or home center.
http://en.wikipedia.org/wiki/Acetone
Be sure to keep the window open (as it is highly flammable), put some acetone on a cloth and wipe gently.
Please keep me updated on the result.
Best regards,

---
Happy new year to you!
Yes, the acetone worked well to remove the resin deposit.
Here are some other photos I took of the hinoki tub... feel free to use anyone.

Ofuro in mosaic clad bathroom

Our wonderful bath has arrived in perfect condition and it looks amazing.
Thank you so much for all your hard work.
A. from Australia
Reference from France
Good Morning Iacopo
The tub has arrived at our home last Friday. We have unpacked it just to see and smell it...and repacked it because our bathroom will be available only in a couple of months !
The tub is beautiful - we are very happy to have it ...it will be hard to wait before we can use it !
Thanks again for everything
Best regards
G & B
Reference from Simi Valley
Hello Iacopo and everyone at Bartok Design!

I wanted to tell you that we are enjoying our beautiful bath accessories (stool, bucket, and ladle). The aroma of the wood is incredible and brings back fond memories of Japan. I cannot fully explain how happy we are, the craftsmanship is wonderful.

I also want to thank you for all the help with the shipping issues that we experienced. Transporting goods across the world is not always an easy thing and sometimes the carriers are very rough. Even though you packaged everything very well, they still managed to crush the container. However, when I reported this to you, I was immediately informed that you were shipping out replacements. There was no hassle or question, just your team taking every step necessary to ensure my satisfaction. I only wish that I get such incredible customer service here in California.

We will be remodeling our bathroom soon and I look forward to purchasing the ofuro and related items from you. You have more than earned the business through impeccable service and stellar quality. I am very excited for that day to come soon!

All our best from Simi Valley, California,
John

Testimonial from Switzerland-3
(Following the request for installed tubs pictures for a TV program. Tub shipped may/2008)
Nice to hear from you ! And congratulation on this nice opportunity for you to show your product!
We have been indeed enjoying hot baths... actually nearly everyday in Winter!!!
Attached is a picture of our daughter and her friends... It was during her last birthday (pyjama) party. Not quite a standard use of the Bathtub... but they had a lot of fun taking their bath together!
/from Switzerland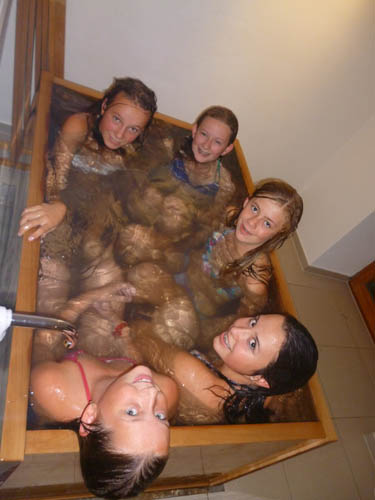 Testimonial from miss O.
Testimonial from Switzerland-2
Testimonial from Switzerland-1
(Following the request for installed tubs pictures for a TV program. Tub shipped apr/2008)



Hello What an excellent recognition for what we consider to be one of Japan's great products! We would be happy to have the photo done with us in our tub with water in it. Attached is an old photo with the tub partially full showing a bit of the bath house As you may recall, our Hinoki tub is inside our Japanese bathhouse, which is all made with Japanese cedar wood also imported from Japan...and looks out on our Japanese garden... With kind regards MJ from Switzerland


Testimonial from New Zealand
(Following the request for installed tubs pictures for a TV program. Tub shipped may/2010)
Dear Iacopo,
Here it is the picture of us enjoying the bath in early morning. No steam, as I have to keep the door open so the camera doesn't get foggy !




We are enjoying our bath very much end everyone who see it admires your wonderful work, thank you . We live in a farm , in the mountains on the back of ***, and , in the winter we can see the snow from our bath window, as well as the trees we planted around. By the way , I have planted a couple of hectareas of Japanese cyprus, the same variety used in Japan. I hope my daughter one day can make her own bath from them ! ( we plant forest for the carbon credits scheme )
I wish you and your family a new year full of beautiful bathtubs all around the world !
Best regards,
JC from New Zealand
Testimonial from California
(Following the request for installed tubs pictures for a TV program. Tub shipped feb/2008)



Happy to help. We have enjoyed our bathtub tremendously.
Attached are 4 photos for your use. We give you complete rights to use these images as you see fit.
Please let us know if there is anything else we can do to help. Best wishes,

G&K from California


hinoki tub installed in Seattle
We just received the beautiful pictures and kind comment of a client from the West Coast:
---
Happy New Year! I hope that all is going well for you in Japan.

Here are a few photos of our hinoki tub installed. It is a joy to use!!! Now you need to make a journey to this part of the world to see it in person!

Thank you so much to you, Wada-san, and anyone else who assisted in making or getting it ready to ship. It was a long journey to get it in place and I am very happy we did it.

All my best,

J.
---
To hear that the client is satisfied and enjoying the tub is is for us the most important thing and is the source of more energy and enthusiasm in continuing our mission of introducing the art of japanese soaking baths Worldwide!
reference from texas
We received the bath accessories today. Shipping was so quick! My wife loves them! The items are very well made and remind us very much of the time we spent in a ryokan in Kyoto 3 yrs ago on holiday.
FT
shipping of additional accessories
Thanks Iacopo,
for the fast reply.
(...)
It has been a pleasure working with you,and we are so looking forward to enjoying these special tubs.
We will be mentioning you to all our friends that will see tubs your company makes!
Wishing you peace,
(sign)
reference from england 1
We just recently acquired the bath from Bartok for a new country house and consequently we have not yet used it, but I have had one in London since about 1995. Mine also came from Japan, from a maker called Kodai (as in, "past era") who sadly seem themselves to have been consigned to the past, as they appear no longer to be in business.
We found Iacopo and Bartok on the web. He was much less expensive than local tub manufacturers and offered a genuine hinoki product constructed the traditional way, so we did no further comparison shopping. Having seen the tub, I can strongly recommend him. Also, he was very helpful and communicative, which is important because your builder likely will be unfamiliar with the idea and will need information and reassurance. He also sorted out the shipping, so this presents no big obstacle compared to local
alternatives.

My experience with the tub in London might not be representative, because I am there less than half the time and the tub is used only occasionally. As you might know, this is in some ways more wearing for the tub than continuous use, because it is usually quite dry. I think the average life expectancy is about 10 years, but after several years past that, mine still is in good shape.

I think the most important thing is to put the tub in a "wet room" because it will "weep" and the water should be collected and drained. This will enable a proper bathing experience anyway, because you can have showers and taps in the room but outside the tub, as in Japan.
I also strongly recommend incorporating a recirculation system so that you can keep the water hot.

So, you can see that the builder has to be familiar with the concept of a wet room (this is becoming fairly standard technology) and has to know a bit about spa recirculation systems.

For cleaning, Kodai supplied a solvent containing tree oil, which i quite liked, but with their demise I have not been able to find a similar product.
Absent this, when i empty the tub, I wipe it with a towel (no cleaning products) and sand it occasionally. This seems to work well.

My tub is in a reconstructed pre-Victorian house, and i just leave the sash window to the room slightly open. No special ventilation measures.

I hope this helps. I strongly recommend you get the tub and hope you enjoy it.
Regards,

D J

reference from belgium
I am happy with the tub and the service at your end.
What does not work well however is the transportation. I think that if you could sort out deliveries to Europe you would provide a much better service. I had to deal with customs authorities and a very difficult/unreasonable
transport company (which I assume is the one you used) and wait for weeks when the tub was already in Rotterdam.
There must be a simpler way to offer to the clients, e.g. DHL or another courier that would take care of all the formalities themselves and would then invoice the customer.
Just a friendly suggestion.
Kind regards
K F
---
Reply:
Thank you for your comment and friendly suggestion.
I am really sorry you had so much trouble with the delivery.
We use two couriers: YUSEN (japanese) and H&Friends (Korean).
Their service and fare vary considerably depending if they have a direct branch in the destination country or not.
We always try to choose taking in consideration this issue.
Both forwarders do not have a branch in Holland and I think that the delay was caused by bad communication between the customs agent and the shipper and between them and the client (you).
Unfortunately we cannot take in consideration DHL because it is too expensive.
In the past we were taking care of the customs formalities as well, but the local costs vary and are quite unpredictable.
We were ending up in overbilling some clients (we were sending a reimbursement) or in losing money (and not being reimbursed).
So we decided to use the formula DDU. (Delivered, duties unpaied).
I know it is an additional issue for the customer to take care of, but could not expect it would be so unconvenient like in your case.
Again we sincerely apologise for the trouble and will continue to look for better options for the shipping.
With Best Regards,
Iacopo Torrini

reference from england 2
I can recommend Bartok Design without reservation. Although the relevant construction project is still underway and I have not used the recently-ordered tub, I have seen it and the workmanship looks excellent. Having lived in Japan, I believe that your client is best served by a hinoki tub, instead of a locally sourced alternative. In our experience, Bartok Design were very co-operative, communicative and easy to work with. Let me know if you require any further information.
Regards,
arrival in paris
Dear Iacopo,

We just received the tub today on the site.

I did not see it yet... but tomorrow morning.

We will be having some difficulties getting it to the 8th floor, but we will manage...

I will let you know how things will work out.


---
I am sorry I did not get in touch earlier with you, but our project was quite difficult and it took us some time to install the tub in place, as there were access difficulties, and structural problems to be solved.

But now everything is fine and we think that it is wonderful that, thanks to your help, we have been able to install such a great piece in such a unique place in Paris.
Thank you again.

A.
arrival in norway
Dear sirs at Bartok!
The badtub was delivered to us on Monday. Following your instructions we haven't opened yet, but the size and form is perfect for us. We are looking forward to have it installed and enjoy it.
I thank you again for your help and good service!
Best regards,
F G D
arrival on site
The shipping company phoned, and our Bathtub has arrived ! it will be delivered next week on 14th of July! French national day, but the swiss do not care.... ;-) For us, this week would be too early as there are still some work to be done in the house; they were OK to delay teh delivery, but I hope it's no problem for the tub...?
---
Hello Iacopo !
Yes, on July 14th, our bathtub was delivered as planned, and on July 15th we moved in our newly renovated house (an ancient barn), and our moving people installed it in its pit ! :-))
"Unfortunately", they had to remove the plastic cover, overwise they wouldn't have been able to carry it (too slippy...) and set it properly in place.
I say "unfortunately", because our tap has not been installed yet, so that we cannot take a bath! Anyway, to follow the instructions, we filled it with water from the garden, and empied it a few hours later. In addition, we've been using the nearby shower every night, and I suppose it brings humidity arround (?).
Otherwise, we are very happy with our Bathtub and the meantime, we simply enjoy its beauty and its good smell !!! As for the accessories, they are also very nice indeed!

response to question
Dear Mr. Torrini,
I can not thank you enough for taking the time to respond to my e-mail. I will use the information that you have provided to repair my friends tub. If I am unsuccessful, I will be coming to Bartok Design for a new tub. I will let you know how my endeavors turn out.
You have been very helpful, and YES, I would be pleased if you placed my question and your answer on your website. I have spent many hours looking over your site and I'm sure that I will spend many more. It reminds me of the time I spent in Kyoto working with carpenters building tea rooms (chashitsu).
Thanks again for your help and professionalism.
Sincerely,
T J S